Every year, we get a little bit older and a little bit wiser, but no matter how old we get, it's important to keep that childhood sense of wonder in our lives. There are little things in life which just add so much value and interest to our day to day. One of those things which I love and I'm sure you do as well, is technology.
Every year tons of new discoveries are made by really smart people around the world, and because of this we are extremely lucky to have new tech gadgets coming out on a regular basis. It seems that innovation in technology is getting more advanced as each year passes.
2019 will be no different. With better, faster and stronger tech that help us to do more and make life easier.
Here are 5 Tech Gadgets Coming Out In 2019 That You Need To See:
1. MATRIX PowerWatch 2 – Unlimited Battery Smart Watch
The first cool tech of 2019 is a new smartwatch which never needs to be charged.
The Matrix PowerWatch™ is phenomenal patented smart device that recharges its battery using thermoelectric power (your body heat) and also sunlight. It does not require any external power to function, making it extremely eco-friendly and conveniently saves you valuable time on charging.
Despite never needing to be charged, it is has a range of useful features that make it perfect for active people and athletes, such as:
GPS Tracking
Heart Rate Monitoring
Compass
Phone Notifications
Cadence Tracking
Another cool thing is, because the watch is powered by your heat, it also has a function which measures your energy production. This means you can see how much energy you're putting out while doing exercise.
The watch itself is in an Aircraft-grade aluminum case with a hardened glass face and back for extra strength. It is extremely durable, with a scratch resistant screen and water resistance up to 200 meters. The creators Matrix, designed it to be used for people on the move, even in the harshest of conditions.
2. BedJet – Temperature and Climate Control For Your Bed
Number 2 the BedJet™ – a unique device which allows you to regulate the temperature and climate underneath your duvet covers, while you sleep.
Have you ever been lying in bed late at night and all you want to do is fall asleep, but it's just too damn hot or too cold? Using this cool new invention you can now modulate your core body temperature throughout the night. So you no longer have to feel uncomfortable in bed.
It works using Biorhythm Sleep Technology, which aligns with your body's circadian rhythm, and performs hourly climate control adjustments in your bed to ensure that you get to sleep faster and stay asleep longer.
Another great feature from this product is the ability to wake up naturally without an alarm. Here's a snippet from their website to explain, "BedJet v2 alters your body's core temperature in the morning (at a time you select). This bio-hack wake up time resets your internal clock to alert your mind and body that it's time to start the day by activating a pre-programmed circadian reaction in your brain."
3. HYPHEN – Smart Wireless Earbuds
The next piece of tech on our list, is something I think each person can benefit from, meet HYPHEN Wireless Earbuds from Rolling Square:
HYPHEN Wireless Earbuds™ are the most thoroughly designed wireless earphone solution that has ever hit the market. PAcked with premium features, insane sound quality, ergonomic design and an affordable price. These earbuds are coming in early 2019 and they are going to change the game.
Here are some of the features that they offer: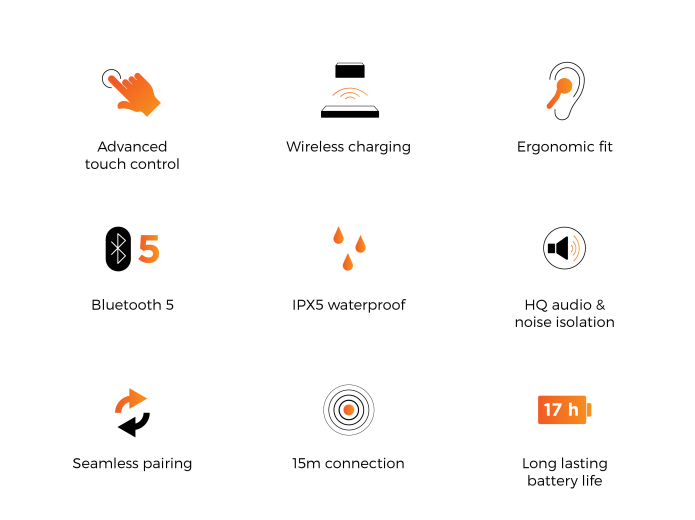 Noise Isolation
Call in Both Ears
Instant Pairing
Advanced Touch Control
Bluetooth v5
17 hour battery life
IPX5 Water Resistance
Integrated Wireless Charging
It also features Super Fast Charging, only 15 minutes and you're all set for the day. This is definetley something you will want to get your hands on in 2019.
4. FOCI – A Wearable Smart Technology That Boosts Your Focus
Okay now this next one is a little bit different than what we're normally used too. Introducing FOCI:
FOCI™ is a biometric wearable that tracks your subconscious and allows you to tune into deep focus. It's used to analyse patterns for when you lose focus while working, giving you notifications and real time advice that allows you to optimize your mental performance throughout the day.
Using a technology such as this, you will be able to understand yourself better. Helping you to increase self-awareness, stay on your task and perform at your best in 2019. Using a smartphone app, the device lets you measure your mental focus then see clearly how long it takes before your mind starts to drift, what times of the day you are at highest level of productivity and more.
It even has an integrated AI Mental Coach that shows you where you are making mistakes and shows you exactly how to improve your focus, the way a personal trainer helps you to grow your muscles.
5. Vue Smart Glasses – Stylish, Sleek and Comfortable
For those of us who wear glasses, this product is going to change your life!
Vue™ are the first smart glasses on the market which look indistinguishable from normal glasses, they're light, trendy and stylish. However the difference is they have amazing technology built in such as a touch controls on the sides and an open ear design by using stereo bone conduction speakers which transmit the audio directly into your ear without earphones.
Vue uses an app which allows you to choose what you want to use it for. They makes it possible to:
Listen to Music
Turn by Turn Navigation
Activity Tracking
Answer calls
Hear Notifications
Report the Time
Take a Picture
All without ever needing to look at your phone. Using the built in gesture control, it can be as simple as just double tapping your frame. This makes these glasses much safer as you do not need to get distracted by looking down all the time. It's the integrated, convenient and has the ease of use that we have always wanted from smart glasses.
They have 3 different styles of frames. Prescription, Plano and Sunglasses. The glasses are also sweat and water resistant so that you don't have to worry about them getting damaged in bad weather or after a long jog.
Another great thing is the battery life! Get up to 2-3 days usage on a single charge, or up to 7 days when using their special wireless charging glasses case. They really did think of everything!
5. PIQO Projector™ – Insanely Powerful 1080p Pocket Projector
So the last one on our list is an awesome gadget that everyone needs!
Imagine being able to watch a movie displayed on your ceiling while lying in bed. This next gen mini projector is a full blown movie theatre in your pocket! PIQO can be connected wirelessly or plugged into your devices via USB or HDMI and provides over 5 hours of playtime!
Thanks to it's 200 lumen projection power, it's got true 1080p high-definition with cinema quality colours and deep blacks to provide strong contrast. All while remaining bright & sharp. It's lightweight and very small, being only 2 inches across.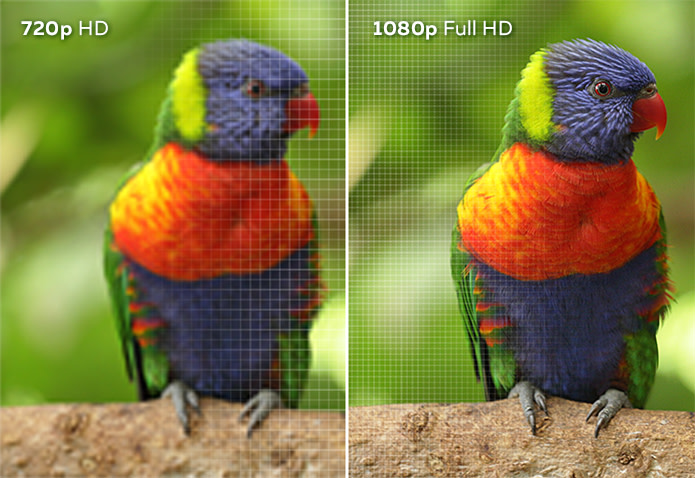 Here are some of the most notable features:
Touchscreen Controls
Fast Charging – 15 minute charge for 1 hours use
Intelligent Keystone Auto-Correction Projection
Insane 5 Hour Battery Life
1080p x 240 inch x 200 lumen display
Offline Storage & Download Capability
Built-In Hi Fi Speaker Engineered By Bose
It's also powered by Android which allows you to watch Netflix and Youtube videos at anytime anywhere!